The right-wing voter suppression group, King Street Patriots, used a doctored photo to make it look like an African-American woman was complaining that she wasn't allowed to vote twice in the election. This, combined with the groups untrue allegations of voter fraud ought to destroy its credibility and render impotent its efforts to suppress the vote of middle class, poor and minority voters who oppose its extremist agenda.
Listen to podcast of my discussion of the matter with Dallas KRLD radio host Scott Braddock. And read my piece at Huffington Post below.
A right-wing group in Houston engaged in a systematic voter suppression and intimidation effort used a doctored photo in its showcase video. Tellingly, a hand-lettered sign carried by an African-American woman at a 2000 Florida, Gore-Lieberman recount rally was changed from, "Don't Mess With Our Vote," to read, "I Only Got to Vote Once."

Huffington Post editors first suspected the photoshopping after I posted "Possible Arson and the Right's Texas Voter Suppression Effort" regarding King Street Patriots' attacks on a nonprofit voter registration effort and the mysterious fire that destroyed all of Harris County's (Houston) voting machines.

In my regular Sunday FireDogLake column, I posted a follow-up piece, "Contempt for Democracy: Attacks on Voting Rights," that included a link to DigitalDupes.org, which had launched an effort to locate the original photo. Within hours, Newshounds found it.

In addition, a Gore/Lieberman sign was altered to read, "I'm With Stupid." Here is the doctored video as presented in King Street Patriots' video, followed by the original photographs.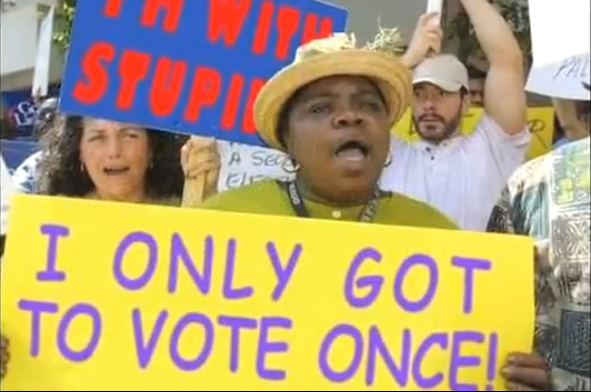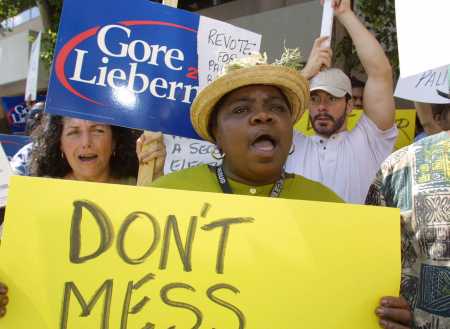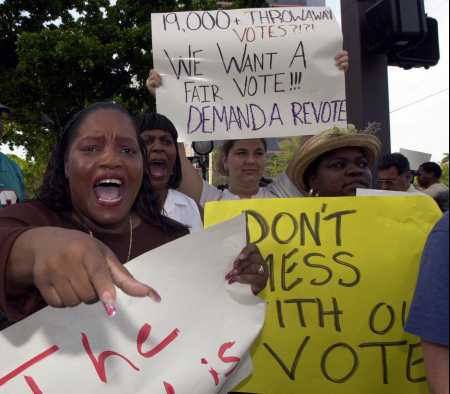 Continue reading "Right-Wing Voter Suppression Group Caught Using Fake Photo"